Other Concepts
Pop-ups, venues,
& everything else
Tock was built to power reservations and events for all types of hospitality concepts. Drive revenue, increase covers, and give your guests the experience of a lifetime.
Request a demo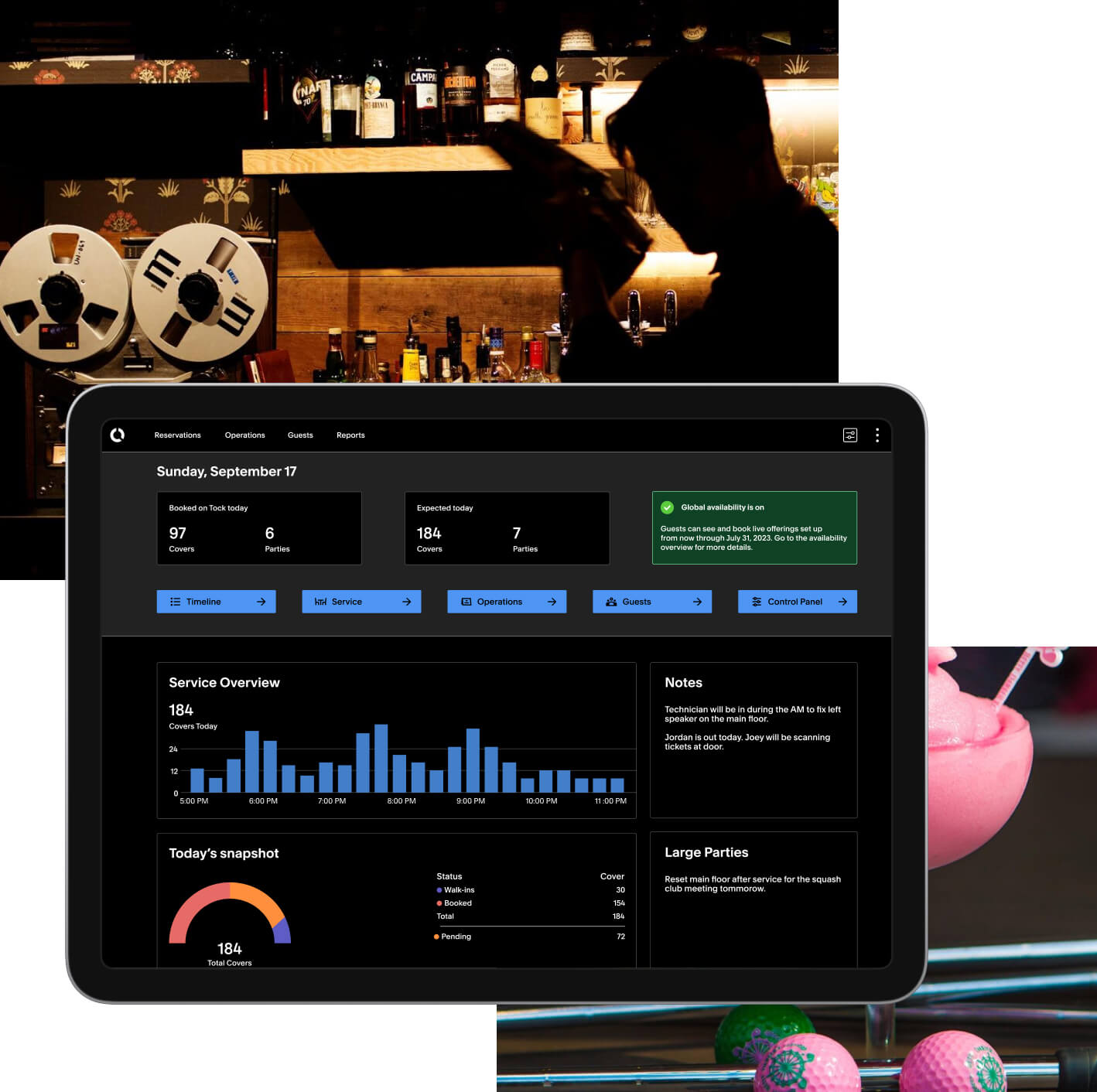 Do more with Tock
Drive revenue

Reservations, experiences, event ticketing, and VIP access. Sell it all in one easy-to-use place.

Keep seats filled

Utilize features that drive demand when you need to and turn tables when you want to.

Manage service your way

Customizable table management and automation tools mean you can be as hands-on—or off—as you want.

Turn guests into regulars

Seamlessly capture and use guest preferences to craft memorable experiences.

Achieve more with high-touch support

Manage and grow your business at every stage with data-driven insights and best-in-class support.
Tock works for any and all time-slotted business.
Breweries & distilleries

Brewpubs, tasting rooms, behind-the-scenes tours, & events.

Culinary classes & tours

From pasta-making to wine tasting, and everything in-between.

Tea houses & coffee roasters

Interactive tastings, guided tours, and educational sessions.

Pop-ups, markets, & brand activations

Bring your concept to life—then sell it out.

Music venues & comedy clubs

Offer the best seats in the house with upgrades and add-ons.

Sporting clubs, arcades, & game cafés

Bowling lanes, curling, and beyond.
Everything your business needs—and more
Tock has all of the essential tools and technology, but with the control to fine-tune and customize service to suit your needs.
Reservations your way

Tock is the only platform that allows you to sell and manage a blend of free, deposit, and prepaid reservations.

Diversify revenue streams

Tock makes it easy to sell events and experiences, like holiday markets or mushroom-foraging tours.

Sell it to-go

Offer curated to-go experiences, like cocktail kits, DIY dinners, and add-ons from tours or tastings.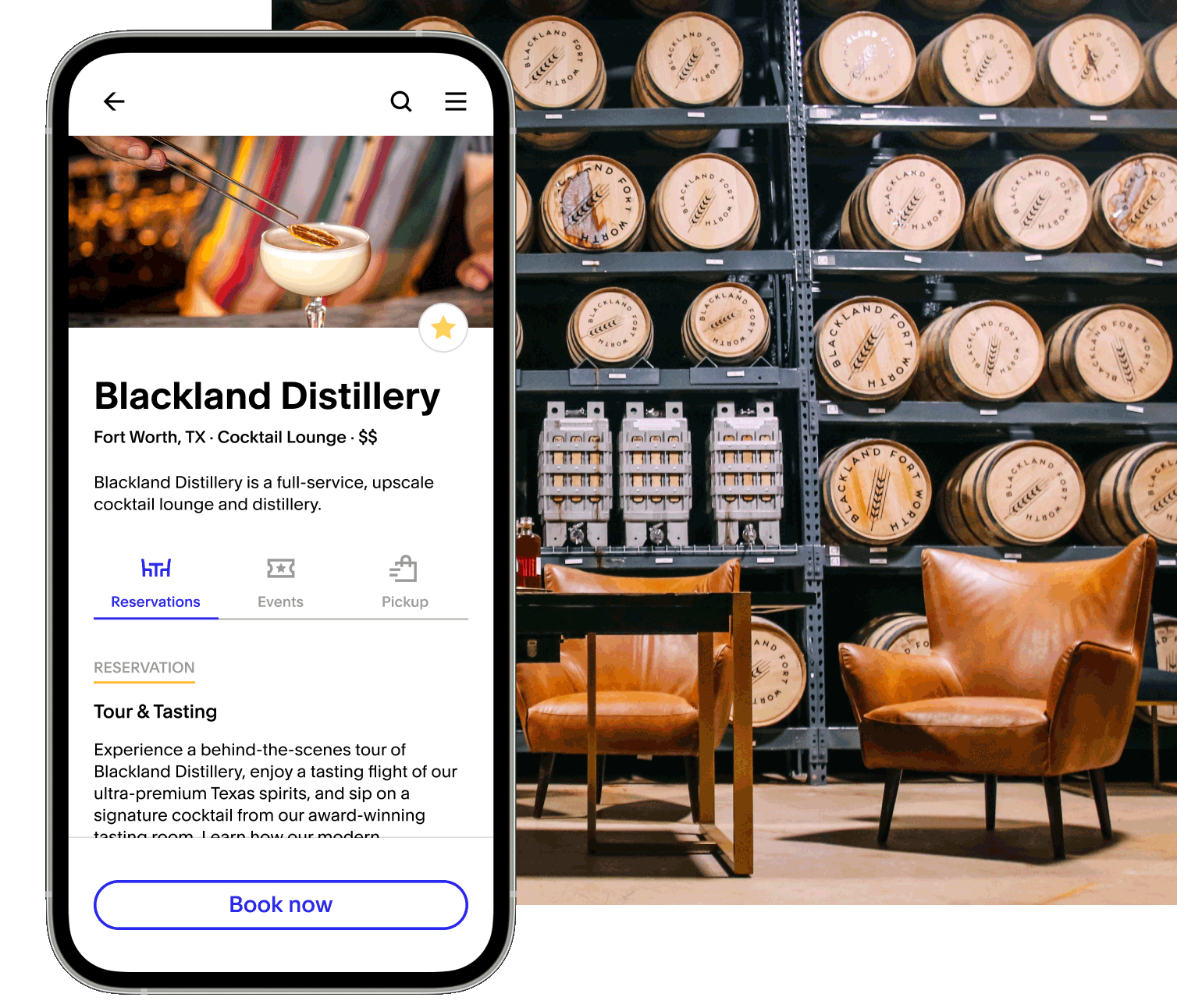 Deliver better hospitality

Robust profiles with preferences, history, and dietary restrictions make it easy to surprise and delight your guests.

Showcase your brand

Tock provides an elegant, user-friendly interface for guests to book, modify, and confirm reservations. Think of your Tock page as an extension of your brand.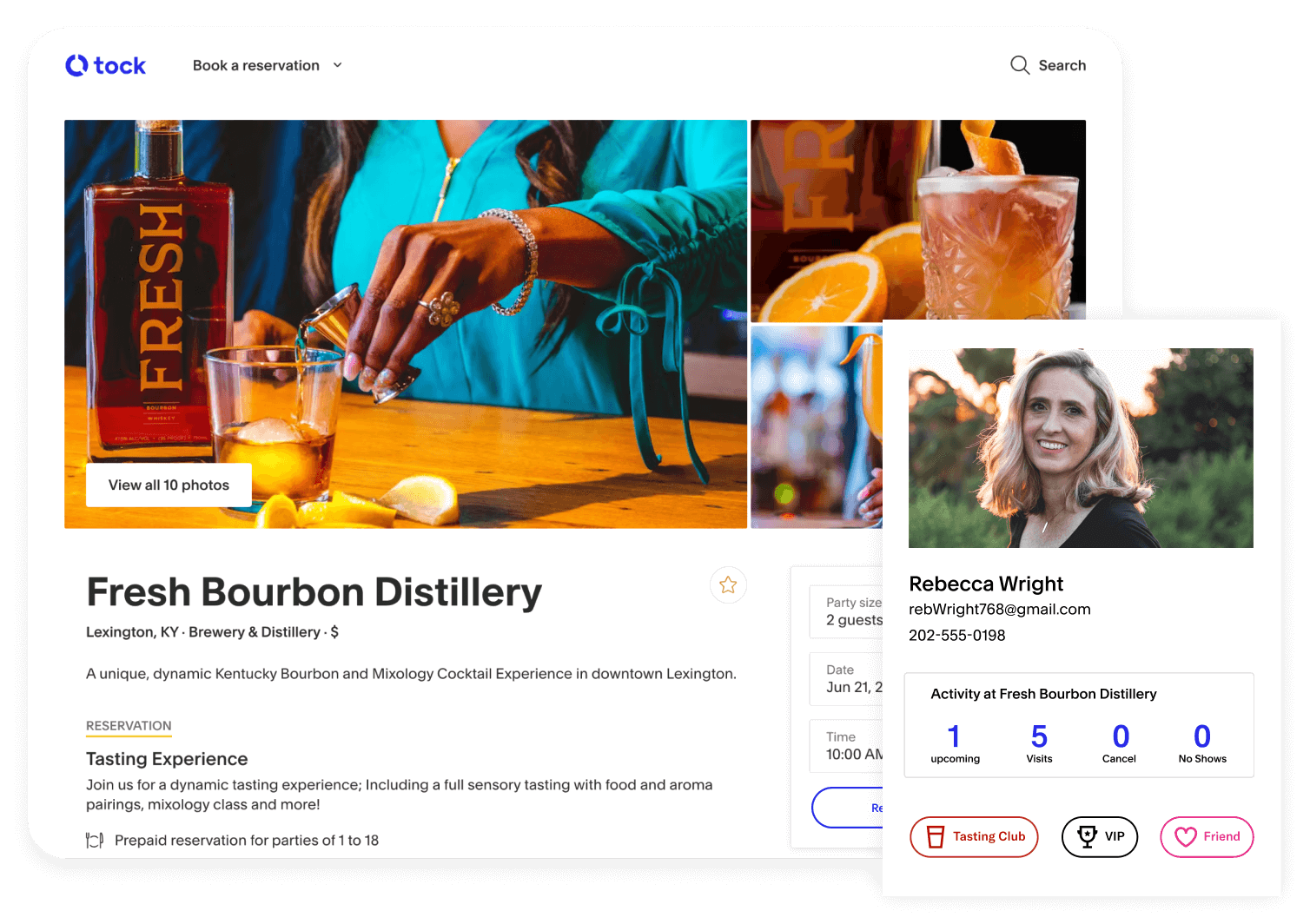 Tock is trusted by thousands of hospitality businesses around the globe.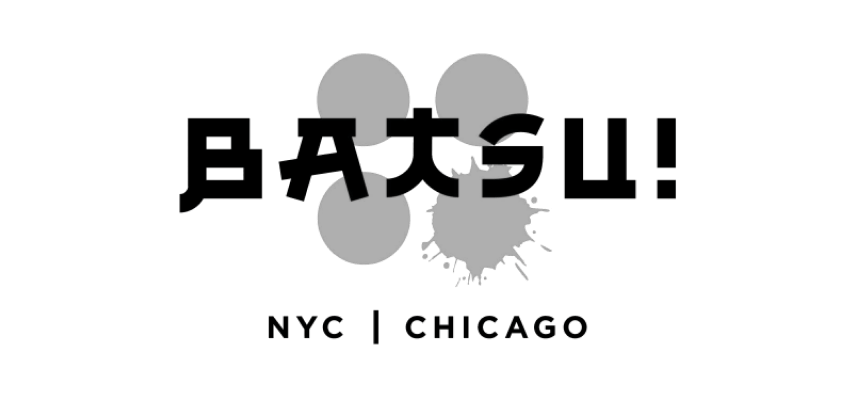 Let's Chat
Schedule a demo. We can discuss your needs and show you how Tock can help your business.
By clicking Request a demo, you agree to our Terms of Use and acknowledge that you have read and understood our Privacy Policy.